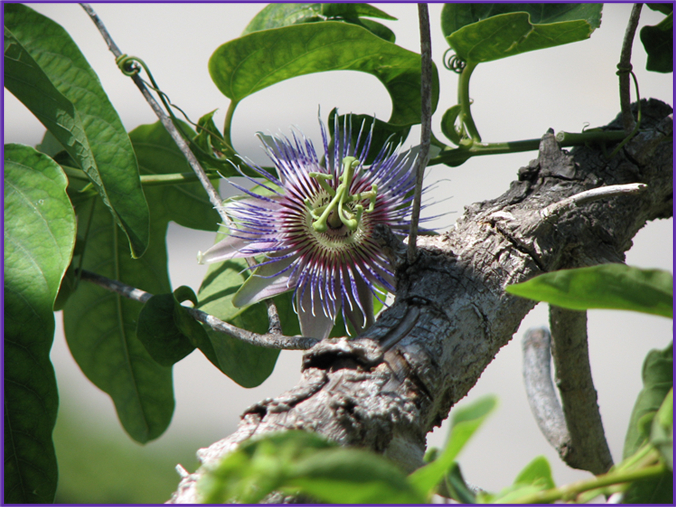 Healing Properties of
Passion Flower Power
Many healing powers of the Passion Flower are already well known - including its alleviation of symptoms like depression, anxiety, obesity, elevated blood pressure, high cholesterol, addiction withdrawal and difficulty sleeping. Some people even use Passion Flower as a topical treatment for burns, pain or swelling. Less known, however, is this remarkable flower's ability to assist in the removal of unfriendly estrogen from the body.

In an enzyme process called aromatasation, progesterone and testosterone hormones are converted into estradiol, a harmful form of estrogen known for speeding the growth of cancer cells. High stress levels, environmental toxins, excess weight and other deep-seated contractions in the body only accelerate that activity. Some studies show, however, that Passion Flower may work as an aromatase inhibitor, thereby counteracting the conversion process and enabling the body to better protect itself.

Passion makes an impression. And you needn't but look at a Passion Flower to sense its divine potency. Most varieties grace us with their unique and glorious flowers for just one day, but in that single bloom is a deep and timeless healing energy... Healing NRG's Passion Flower Power Tincture is a signature blend of that sacred energy, with other harmoniously supportive ingredients, as cultivated by Carolyn Marie Solton, who prepares and bottles all her tinctures with pure intention, according the new and full moon cycles.

Those benefits alone are quite something! But while Organic Passion Flower may be the primary ingredient, it's not the only magic at work in this tincture. Carolyn Marie's signature blend also includes the following:

SACRED BLUE LOTUS FLOWER
Known since ancient Egyptian times for its power in opening mind and spirit to heightened awareness and tranquility, the "Blue Lily", as it is also called, is regarded as a sacred symbol of creation. According to legend, it was the first object to emerge from the waters of life. When used for healing, it can further help to relieve pain and improve immunity. We offer 200 Year Old Egyptian Blue Lotus Oil.

GOJI BERRIES
Renowned today for its beneficial alkalizing effects, this superfood is super-packed with vitamins, minerals, antioxidants and phytonutrients. Understood as neither warming nor cooling, the goji berry has been in use for thousands of years in China. Its balancing effects on the blood, kidneys, liver and lungs are said to increase longevity.

VANILLA STEMS
In a labor of love, this exquisite spice is cultivated and harvested from tropical orchids in countries like Madagascar, Indonesia and Mexico. Though popular commercially for its appealing aroma and flavor, the health benefits of vanilla consumption are less widely known. Its applications range from natural relaxant to anti-depressant to cancer-fighting, antioxidant powerhouse.

PRANIC HEALING ENERGIES
From the Sanskrit term prana, meaning "vital life", comes the ancient modality of pranic healing - the balancing transmission of vital life energies from one being to another. In this case, contact-free harmonizing energies are infused directly into the tincture, resulting in a unifying and stabilizing effect on mind, body and spirit.